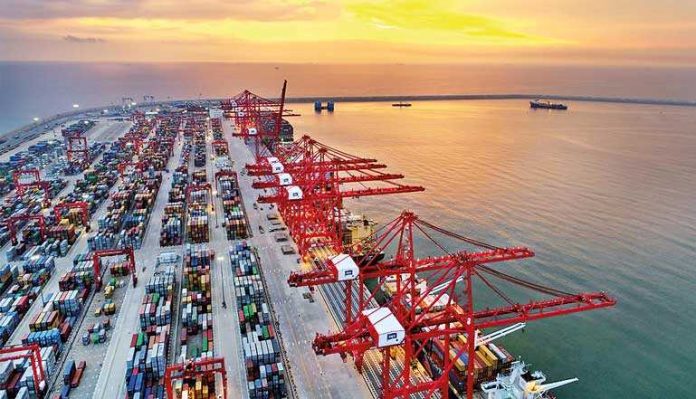 Adani Ports & SEZ announced it has signed a Letter of Intent (LoI) with the Sri Lankan government to develop and operate the strategic West Container Terminal (WCT) at Colombo Port.
Adani will develop the controversial WCT on a Build, Operate and Transfer basis with a 35-year concession as a public-private partnership. Colombo Port's strategic location means the port already handles a significant proportion of India's transhipment cargo, with 45% of Colombo's transhipment volumes either originating from or destined for an Adani terminal in India.
WCT will become a prime transhipment hub with a quay length of 1,400m and a draught of 20m enabling the port to handle ultra-large container Carriers, linking Adani's seven Indian Container terminals, which handle 6 million TEU a year.
CEO and director of APSEZ Karan Adani said, the strategic location of the Port of Colombo is critical for transhipment across the entire subcontinent, and Adani Group's network of container terminals across India "opens up several dimensions of growth possibilities for years to come, not just within our two countries but also to the east as well as the west of our two nations."
Some experts believe Adani's interest in building WCT at Colombo has more to do with international geopolitics than with box transhipment. While India has successfully kept China out of Indian ports, it is also keeping an eye on China's closeness to India strategically and politically with its presence in Hambantota Port, in southern Sri Lanka.
In addition, Maritime India Vision 2030, a document released by the Indian government in February 2021, India's ports lose to US$200-US$220 million in potential revenue annually on additional port handling costs, much of which could be saved by handling containers as direct cargo.
The vision document emphasises the importance of strengthening transhipment hubs in southern India, with 25% of Indian cargo currently handled by Indian ports, the MIV 2030 is aiming for a 75% of transhipment cargo within a decade.
Sheuly Ghosh
India Correspondent