As the fall out from last years' pandemic subsides and the disruption to supply chains caused by the blockage of the Suez Canal is ironed out the next major event is expected to be the standard peak season which is due to start in August and the LA Port complex must start planning now, warns Los Angeles Port's Executive Director, Gene Seroka.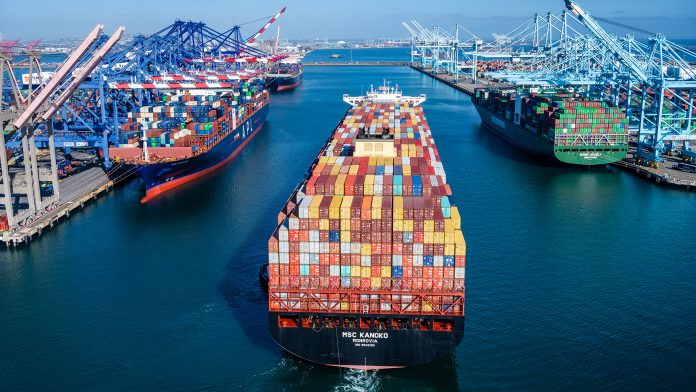 Southern Californian ports at both LA and the Port of Long Beach have experienced extreme congestion as the surge in demand caught carriers, terminal operators and logistics providers unprepared.
At the height of the congestion the Southern Californian ports saw more than 40 ships at anchor in San Pedro bay with shortages of trucks, chassis, and container equipment while rail services remain severely disrupted. Dwell times for import containers at the port terminals, rail heads and other logistics points meant severe delays to cargo deliveries.
While the US ports remain congested and supply chains are a challenge, in order to meet demand for the 2021 peak season means that the planning must start immediately.
"Now we need to move faster because we're going to pivot into the traditional peak season which usually kicks off in August with back to school, fast fashion for the fall as well as year-end holidays that will dominate most of this conversation," Seroka predicted on a project44 webinar broadcast on 27 April.
That means working on the systemic issues of US ports, and in particular the Californian facilities where Seroka argues "There needs to be a chassis provisioning model that makes sure those assets are available for container movement. The truck gate activity must move about 60,000 trucks per day."
Moreover, Seroka said there is a need to increase the velocity of cargo. Cargo [during the pandemic] was simply not being picked up as quickly as in pre-pandemic times. Containers dwell times both on the terminal and beyond doubled and in some cases tripled, that has changed over the last six weeks as cargo owners pick up their products quicker, they are working with the terminals and dwell times have now decreased by 20%.
Congestion has been, in part caused by the lock down, which has seen consumer spending on services plummet. "US consumers kept buying as much as they could because their discretionary income was no longer going to the service sector, flying on aeroplanes going to ball games or to the movies or other areas, the consumer spending spree was massive and sustained," said Seroka.
In addition, the demand in China for containers was not being met in part because demand for export volumes was not being met and empty containers were not returning to Asia in sufficient quantities.
"Part of the decline in US exports has been the basic understanding that imports move to major metropolitan areas where consumers live, but exports, whether they are agricultural, manufacturing or automotive and their tiered suppliers are typically domiciled in rural America. So how to square that circle is the real question here and technology has got to drive that decision making on a broader basis," Seroka argues.
That technology includes a nationwide port community information sharing system that has been discussed with various government administrations so cargo owners can find the truck, rail and ocean freight paths that would make sense to them, the LA executive explained.
As demand has massively expanded the fiscal situation at the port has also blossomed, "the balance sheet was never stronger," said Seroka, and volumes by the end of the fiscal year on 30 June will be more than 10 million TEU, "never has that been done at a western hemisphere port before," he claims.
Meeting the continued demand will mean better processes and more efficient working practices. Seroka believes that, "It's all about digitalisation. We created the nation's first port community system, the port optimiser, and in the last six months we've rolled out Signal, Return Signal and Control Tower as modules of the Port Optimiser to share information earlier in the transit path so companies can prepare earlier for asset provisioning."