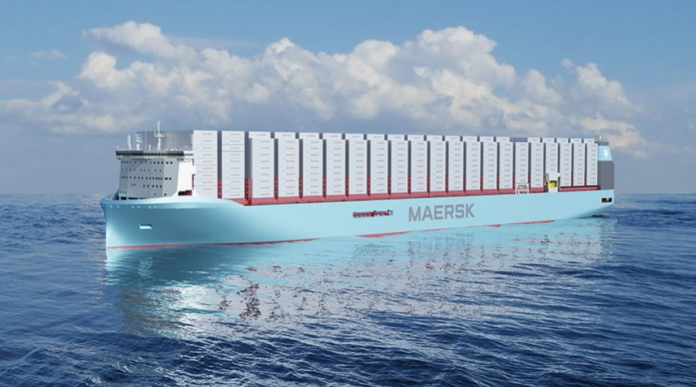 The article was written by the Maersk team
---
At Maersk, we currently oversee the operation of more than 600 self-managed logistics facilities worldwide and we are planning to expand our footprint in the coming years. Learn how we work to make our operations more sustainable.
In a world where customers are increasingly seeking transparency in their supply chains, we at Maersk recognise the growing demand for emissions data along the entire supply chain. To meet this demand, providing enhanced visibility has become a pivotal element of the ongoing product development efforts.
At Maersk, we currently oversee the operation of more than 600 self-managed logistics facilities worldwide, and we have set our sights on expanding this footprint in the coming years. This will offer customers an unparalleled integrated logistics experience, encompassing diverse facilities such as dry warehouses, cold stores, and container depots.
Our Logistics Facilities play an important part if we are to achieve our ambition of having net-zero emissions in 2040, and our aim is to transition towards a greener future by ensuring that a minimum of 90% of our operations rely on renewable electricity and non-fossil fuels by 2030.
To bring these visionary targets to fruition, we have initiated an energy transition program tailored for our logistics facilities. Within this program, we have established a set of standards that will guide the development of future facilities and the retrofitting of existing ones. This comprehensive approach focuses on several key decarbonisation strategies:
1. Energy Performance: By enhancing building designs and implementing energy-efficient technologies like advanced insulation, LED lighting, and smart HVAC systems, Maersk aims to significantly reduce electricity consumption and, consequently, the overall greenhouse gas emissions of its facilities.
2. Electrification: Maersk is committed to transitioning as many equipment and assets as possible from fossil fuel dependency to electric power. Our goal is to have all indoor equipment fully electrified by 2030. Collaborative efforts with APM Terminals are underway to pilot the large-scale deployment of electric reach stackers and empty handlers for outdoor container handling.
3. Renewable Electricity: Ensuring that facilities are powered by renewable electricity sources, whether on-site or through off-site production, is a critical aspect of Maersk's sustainability journey. Work to ensure that our facilities are powered by renewable electricity in the future is taking place in collaboration with the Renewable Energy Category Management team. This endeavor involves Power Purchase Agreements, solar panel installation policies, and innovative wind turbine pilot projects.
4. Building Certification: In a resolute pursuit of sustainability, Maersk places a premium on the environmental performance of its facilities. To underscore this commitment, the company strives for its new logistics facilities to achieve certification from esteemed third-party schemes such as LEED (Leadership in Energy and Environmental Design) and BREEAM (Building Research Establishment Environmental Assessment Method). These certifications serve as concrete evidence of our dedication to constructing eco-conscious buildings that meet stringent sustainability standards. By adhering to these globally recognized certification programs, Maersk ensures that its facilities not only operate efficiently but also contribute positively to the broader ecosystem, promoting responsible construction practices and bolstering its reputation as a sustainability trailblazer in the logistics industry.
5. Natural Refrigerants: Maersk is at the forefront of sustainable logistics with its adoption of natural refrigerants in cold storage facilities. These refrigerants, such as carbon dioxide (CO2) and ammonia, offer a greener alternative to traditional refrigerants with lower global warming potential.
Any investments in new facilities must align with these stringent sustainability requirements either from inception or must have a clear plan in place to meet these criteria by 2030. For existing facilities, we develop tailored energy transition roadmaps in close collaboration with our colleagues in the countries, in order to ensure that by 2030 90% of our global operations will be powered by renewable electricity and non-fossil fuels.
As Maersk continues to advance its sustainability efforts, this program will expand to encompass other aspects such as building materials, packaging materials, and addressing scope 3 emissions. Notably, the first facilities adhering to these low-emission standards have already been launched, leading the way into a greener future for Maersk and its customers.
Sources: Container News