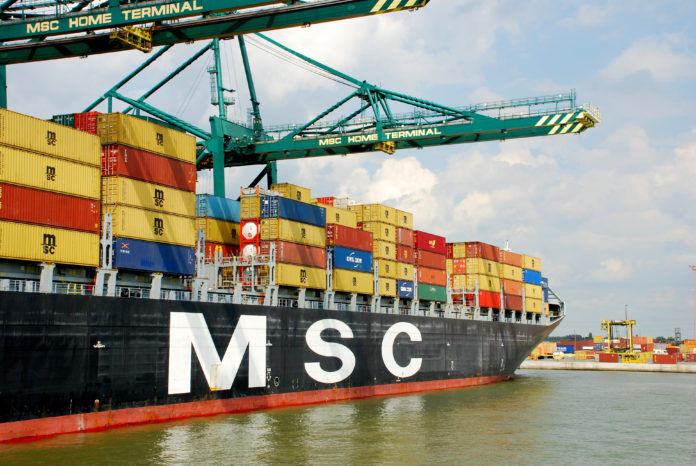 MSC, CMA CGM, Evergreen Marine Corporation and Zim Lines registered the largest fleet growth among liner operators in 2022, according to Alphaliner's latest report.
The four lines engaged in aggressive newbuilding orders, long-term charters and second-hand purchases to bolster their competitiveness just before the freight market began normalising in mid-2022.
MSC, which overtook Maersk Line as the world's largest liner operator last year, widened its gap with its biggest rival, increasing its fleet by 321,455 TEUs, or 7.5%, to 4.6 million TEUs. Of this, 83,600 TEUs comprised newbuildings.
On the contrary, Maersk Line's fleet contracted by 61,705 TEU, or 1.4% to 4.22 million TEU, as the Danish carrier redelivered a significant amount of tonnage. These ships were either sold second-hand or fixed to rival carriers which were prepared to pay higher charter rates or accept longer charter periods.
Alphaliner commented, "MSC is likely to hold this #1 position for the foreseeable future. Its orderbook of 124 ships is by far the industry's largest at 1.73 million TEUs. MSC alone has 14 megamax ships and 22 neo-panamax ships on order for delivery in 2023."
Additionally, CMA CGM grew its fleet by 225,268 TEUs, or 7.1%, to 3.39 million TEUs.
At the same time, Evergreen's fleet growth of 12.5%, taking its capacity to 1.66 million TEUs, was mainly driven by 20 newbuildings of 217,500 TEUs, including large megamax vessels that it received from Samsung Heavy Industries (two ships) and the China State Shipbuilding Corporation group (five ships) last year.
Coincidentally, MSC, Evergreen and CMA CGM also recorded the largest fleet growths in 2021.
However, in percentage terms, it was Zim Lines which had the single largest fleet growth among container lines in 2022, taking in 29%, or 119,961 TEUs to bring its capacity to 533,823 TEUs, enabling the Israeli box carrier to regain its #10 ranking that it ceded to Wan Hai Lines in 2021.
Practising an asset-light strategy, Zim acquired more vessels through long-term charters. Close to 95% of its fleet is chartered and 100% of the ships in its orderbook will also be procured through charters.
Alphaliner said, "Despite the year-long decline in front-haul spot freight rates on mainline routes from China, which dropped from their peak in early 2022 to near pre-pandemic levels today, the past year proved to be a particularly lucrative one for liner shipping: Solid contract rates and a strong Transatlantic market helped carriers to remain profitable. Many carriers made an effort to expand their fleets to take full advantage of the unusually strong market."
---
Martina Li
Asia Correspondent