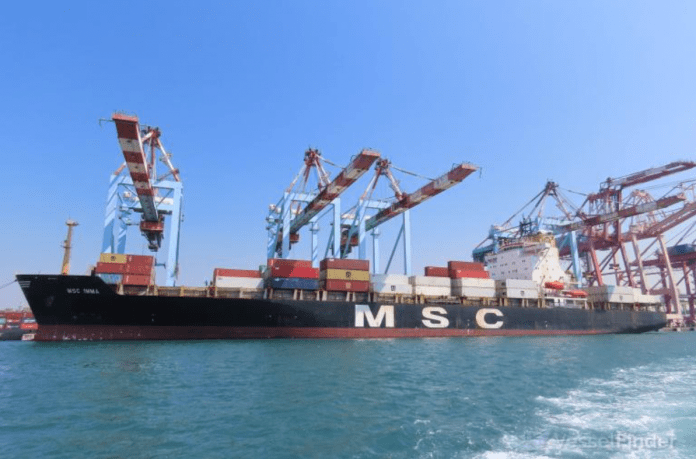 Mediterranean Shipping Co. (MSC Group) is reportedly moving close to striking a deal to pick up a minority stake in PSA International's new terminal at India's Nhava Sheva Port (JNPT).
PSA Mumbai, also known as Bharat Mumbai Container Terminals (BMCT), began Phase I operations in February 2019, with a capacity of 2.4 million TEUs annually. The Singapore-based company was awarded a 30-year concession for the public-private-partnership (PPP) project in 2014, involving a total investment of US$1 billion.
According to industry sources, MSC Group is eyeing a 26% stake in the terminal, the second phase of which is under construction and targeted for commissioning in early 2026.
"In return for the stake buy, MSC is expected to get dedicated access to a 400-metre berth in Phase II of BMCT's capacity," sources told Container News. "This means significant operational and commercial advantages for the carrier."
The Geneva-based liner has a string of weekly calls at Nhava Sheva, which deploy some of the largest vessels in trades out of India. Most of MSC's larger services currently call at DP World Nhava Sheva, while some have berthing windows at BMCT.
The PSA partnership will likely lead to concentration of MSC calls at BMCT. According to industry observers, exclusive berthing rights in a single berth could accommodate up to seven calls a week, making up about 1 million TEUs annually.
"Carriers that have long-term growth plans for India are increasingly looking at adequate terminal capacity in the North Western region where the supply-demand scenario is expected to remain tight in the mid-to-long term as the economy expands," an analyst said.
BMCT's every phase has been designed with three berths, featuring a quay length of 1,000 metres and sophisticated harbour equipment capable of handling 16,000 to 18,000 TEU capacity vessels.
The acquisition move, if it materialises, could heat up intra-port competition at Nhava Sheva, as CMA CGM Group recently won a 30-year concession to modernise and operate the port's oldest box terminal under an equal-ownership joint venture with Mumbai-based JM Baxi Group.
Both MSC and CMA CGM already have established terminal partnerships with Adani Group's Mundra Port.
Additionally, Bollore Africa Logistics, which MSC acquired last year, owns 49% of Dakshin Bharat Gateway Terminal, the busiest container handler at India's Tuticorin Port, also known as V.O. Chidambaranar.
PSA Mumbai has logged impressive throughput growth in recent years, racking up 1.71 million TEUs in fiscal 2022-23. The terminal already hosts more than 10 weekly scheduled containership sailings.
Nhava Sheva Port includes two box facilities operated by DP World and one by APM Terminals.
---
Jenny Daniel
Global Correspondent