Construction on the Centerm Expansion Project at the Port of Vancouver is now complete, according to the Vancouver Fraser Port Authority.
The expansion project was delivered in partnership with terminal operator DP World. Work completed includes expanding the terminal footprint to the west and east, reconfiguring and expanding the container yard, building state-of-art truck gates, expanding the intermodal yard, building a new operations facility, and marine habitat improvements.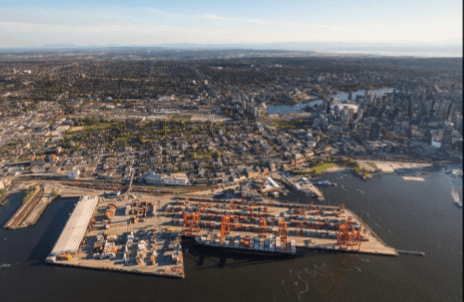 In addition, the full capacity gains are expected to be realised later this year, increasing the terminal's container handling capacity by two-thirds from 900,000 TEUs to 1.5 million TEUs.
Cliff Stewart, vice president of infrastructure at the port authority, commented, "The expanded Centerm terminal is an important addition to the Port of Vancouver as we continue to work to deliver the container capacity Canadians and Canadian businesses need to thrive now and into the future."
According to Port of Vancouver, Canada's west coast marine container terminals are forecast to hit capacity by the mid- to late-2020s, following a decade of 5% average annual growth from 2011 to 2021.