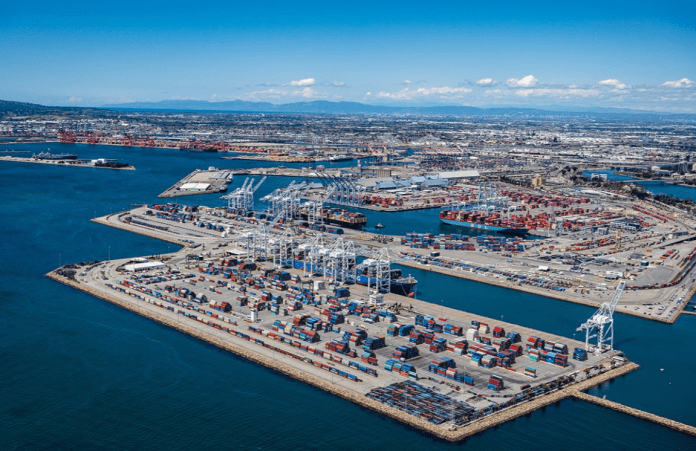 Port of Long Beach in California, US
According to the Global Port Tracker report released recently by the National Retail Federation (NRF) and Hackett Associates, import cargo volume at the United States' major container ports is recovering from a nearly three-year low in February but it is expected to remain well below last year's levels.
US ports covered by Global Port Tracker handled 1.62 million TEUs of import containers in March, up 5% from February but down 30.6% year-on-year.
The box ports in the US have not yet published April figures, but Global Port Tracker predicted 1.73 million import TEUs, translating to a 23.4% decrease year-on-year.
Additionally, 1.83 million TEUs are estimated to be imported by the country's ports in May, representing a 23.5% drop from last year's 2.4 million TEUs, which is an all-time high for the number of containers imported in a single month.
Furthermore, June is expected to reach 1.9 million TEUs, according to the report, which is a 15.9% decrease from the same month last year. July is expected to stand at 2.01 million TEUs, a 7.9% year-on-year decrease, August is expected to see 2.04 million TEUs, a 9.9% year-on-year decline and September is expected to reach 1.96 million TEUs, marking a year-on-year fall of 3.4%.
The huge year-over-year declines are caused by extremely high volumes last year, noted the report.
Meanwhile, the first half of 2023, previously forecast at 10.8 million TEUs, is now forecast at 10.4 million TEUs, down 22.8% from the first half of 2022.
Global Port Tracker has not yet forecast the full year, but the third quarter is expected to total 6 million TEUs, down 7.2% from the same time of last year, and the first nine months of the year would total 16.5 million TEUs, down 17.8% year over year.