Yang Ming Marine Transport chairman Cheng Cheng-mount has asserted that the ongoing correction in container freight rates is just a blip and the market should not be worried that the segment could return to its pre-pandemic struggles.
At an investment seminar organised by Taiwan Stock Exchange on 12 September, Cheng said that China's Covid-19-related lockdowns had caused the decline in freight rates, with cargo volumes slowing down.
He noted, "US consumers ae still spending, while port congestion continues to afflict the US East Coast. We're seeing Asia-US West Coast rates on the down because retailers had overstocked, a situation compounded by China's lockdowns which have resulted in slowing exports to the West. Worldwide, port congestion remains a problem and how soon this will normalise will determine the longer term outlook for freight rates. Schedule reliability for our industry is still under 50%, meaning that ships are being held up."
Last week, the Shanghai Containerized Freight Index lost 10%, but the loss on the Asia-US West Coast freight market was higher at 12%. Asia-US East Coast freight rates were corrected by nearly 9%, compared with 5% the previous week.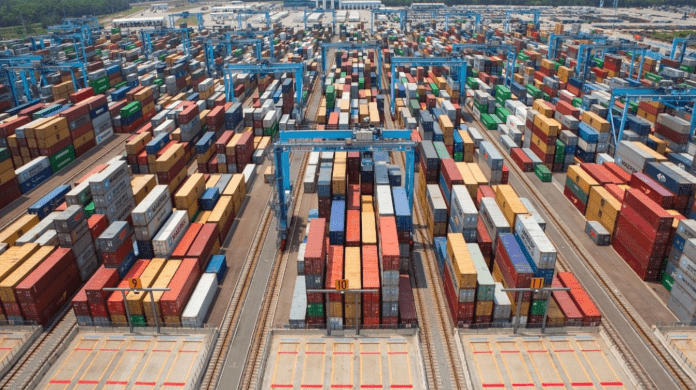 Cheng said that the current situation justifies Yang Ming's conservative stance in expanding its fleet, even as its peers rushed to order newbuildings when the market was red-hot the past two years.
He stated, "We can adjust our shipping capacity according to the market. While we don't have the largest fleet, in a challenging market, this offers stability, because we won't have to incur substantial asset impairments and high debt-to-asset ratios."
Although shipping executives have tried to calm the market jitters, market analysts appear to be more pessimistic.
HSBC Hong Kong recently released a report saying that liner operators' profits could fall by 80% from 2023 to 2024, as supply could exceed demand, especially with a high number of newbuildings being delivered.
The bank forecasts container trade to dip by 2% this year, 3% in 2023, before recovering by 2.5% in 2024. Boxship fleet growth is estimated at 6.2% this year, 6.5% in 2023 and 8% in 2024.
However, HSBC director for regional transport research, Parash Jain opined that liner operators will not return to the difficult period prior to 2020, as contract negotiations will keep freight rates above pre-pandemic levels.
---
Martina Li
Asia Correspondent