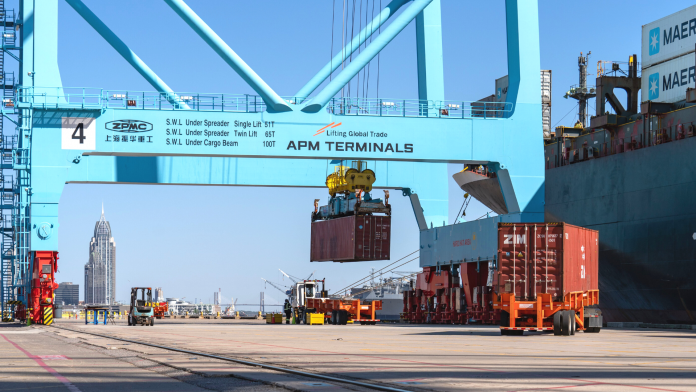 APM Terminals Mobile handled 56,545 TEUs the last month, making September the largest throughput month since the Maersk-owned port operating company began operations in Alabama, US in 2008.
With 421,232 TEUs, moved year-to-date, 2022 volumes are now 14% higher than 2021 volumes in APM Terminals Mobile. In addition to record-breaking container numbers, intermodal rail moves in September were up 141% over 2021, and refrigerated cargo was up 16% over the same period, according to the company's data.
"The pandemic has tested every company and every supply chain. Supply chain disruption is a constant. Importers and exporters are looking for new supply chain connectivity to bolster their competitiveness, agility and business continuity plans," commented Brian Harold, managing director of APM Terminals Mobile.
Maersk's terminal operator is doubling the capacity of its facility in Alabama, which is expected to surpass one million TEU in 2025 supported by the Mobile harbor channel deepening and widening project to 50' depth, enabling larger vessels to call the port.
"The harbor improvements will make Mobile the deepest harbor in the U.S. Gulf, attracting more ocean carrier services," said APM Terminals in a statement.