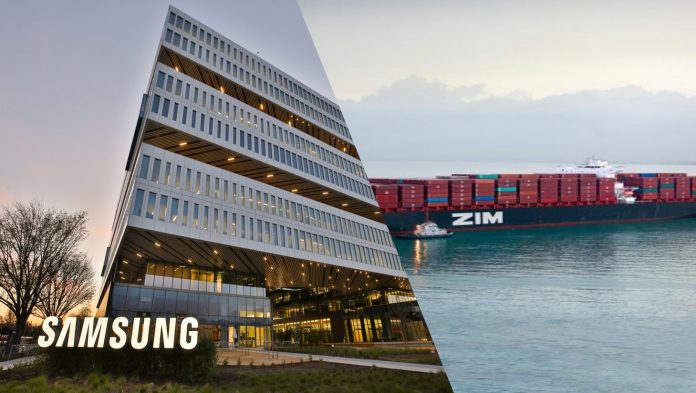 South Korea's leading electronics maker Samsung Electronics has joined the list of shippers who have complained about mainline operators' conduct to the US Federal Maritime Commission (FMC).
On 26 October, Samsung Electronics' New Jersey subsidiary accused ZIM Integrated Shipping Services of imposing thousands of detention and demurrage (D&D) charges, when the Israeli carrier did not manage to deliver its cargo. The world's largest mobile phone manufacturer alleged that it was double-charged on D&D, without being given reasons.
Samsung Electronics is by far, the largest and most high-profile complainant to the FMC, which began receiving grievances when sky-high freight rates reportedly resulted in mainline operators reneging on contractual requirements and constrained shippers to pay higher spot rates.
Last year, US furniture maker MCS Industries accused COSCO Shipping Lines and MSC of breaching their contractual obligations by allegedly failing to provide adequate shipping space and forcing the complainant to pay higher spot rates. While MCS has settled its dispute with COSCO, MSC is now facing a default judgement after declining to hand over relevant documents.
Samsung Electronics further asserted that ZIM struck back after it made its dissatisfaction known, accusing the carrier of failing to honour the inland delivery aspect of its shipments. The South Korean group said that its agreement with ZIM was on store door terms, meaning that the carrier would handle ocean and inland deliveries.
Samsung Electronics charged that ZIM "repeatedly and chronically" fell short of fulfilling inland transportation, blaming trucker and chassis shortages, port congestion and weather issues.
In response to queries from Container News, a spokesperson for the Haifa-base box line said, "We can confirm we are aware of a complaint submitted yesterday to the FMC by Samsung, however, we are unable to provide more details as we are looking into it at this stage."
---
Martina Li
Asia Correspondent