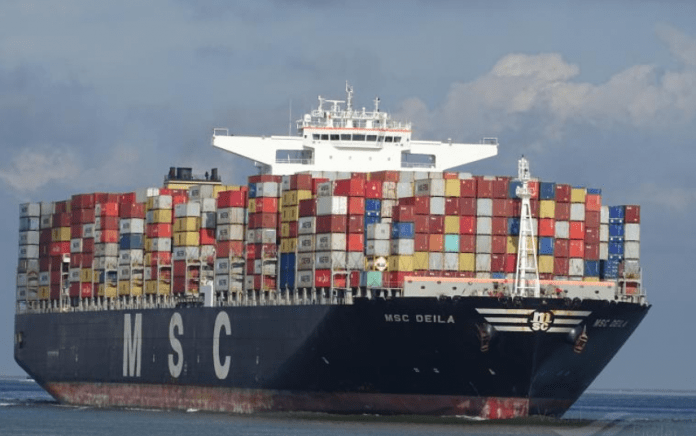 MSC Deila / Source: www.vesselfinder.com
Blanked Asia-Europe sailings have become expected in liner operators' routines, according to Alphaliner's latest report today (16 August).
Record newbuilding deliveries have made operators reduce sailings to manage capacity and THE Alliance has the largest percentage of skipped schedules.
THE Alliance has blanked just over 10 of its sailings, translating to nearly 20% of sailings that have been skipped. In comparison, the OCEAN Alliance has skipped 10 of its 90-odd voyages, amounting to a suspension rate of 10%.
Skipping sailings was initially a way to reduce capacity in times of low cargo demand. During the Covid-19 pandemic, missed sailings were the consequence of port congestion with ships arriving too late for a new round voyage. Now with the influx of new tonnage and a sufficient amount of available ships, blanked sailings have become common practice for a different reason. Even with ONE receiving new ships, THE Alliance had the largest percentage of skipped sailings in June and July.
The 2M agreement of MSC and Maersk blanked only three China-Europe trips, or 4% of sailings, in the same period. That said, MSC has struggled to fill slots on its standalone weekly Swan service that connects Asia to North Europe and Russia.
Last week, MSC implemented an eleventh-hour void sailing affecting the 14,000 TEU MSC Deila.
Alphaliner said, "Limiting capacity should remove some pressure on spot freight rates."
When the Shanghai Containerized Freight Index (SCFI) closed on 11 August, Asia-North Europe rates went dipped to US$926/TEU, while Asia-Mediterranean rates went down to US$1,507/TEU.
Although Transpacific rates edged up to US$2,017/FEU for Asia-US West Coast and US$3,071/FEU for Asia-US East Coast, Linerlytica said these could come under pressure, as cargo volumes remain lower year-on-year and the Panama canal draught restrictions have had limited impact since priority passage is granted to liner services.
---
Martina Li
Asia Correspondent