Mundra Port, India's busiest container harbour, saw a noticeable fall in container movement last month.
According to exclusive data obtained by Container News, the volume of containers handled at the Adani Group's flagship port in September declined nearly 6% month on month to 522,483 TEUs, from 554,184 TEUs in August.
Of this, the Adani-controlled terminals contributed 444,986 TEUs, compared with 457,334 TEUs during August. The Mundra complex also includes a DP World-managed concession, known as Mundra International Container Terminal (MICT).
However, the private port saw more transshipment loads last month, helping it end with a somewhat milder throughput decline. According to available data, the Adani terminals saw a combined transshipment volume of 135,683 TEUs in September, up from 116,813 TEUs in August.
Mundra is not the only Indian port taking a hit on the volume levels. According to the CN analysis, total container traffic out of major/government Indian ports last month slipped to 892,000 TEUs from 977,000 TEUs in August, representing a 9% decrease.
Nhava Sheva/JNPT ended September with 481,000 TEUs, down from 498,000 TEUs, Chennai Port in southern India saw 122,000 TEUs last month, shrinking from 137,000 TEUs, while at Cochin Port, which houses the country's only dedicated transshipment terminal, volumes edged down to 53,000 TEUs from 58,000 TEUs in August.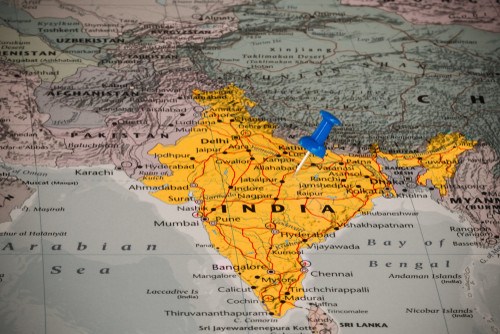 Additionally, Visakhapatnam Port handled just 37,000 TEUs last month, as against 48,000 TEUs in the prior month, data shows, with other smaller ports in India also reporting volume declines in September, on a month-on-month basis.
That deceleration reflects a slowing of India's export/import trade due to global economic headwinds.
"The headwinds in global trade are equally reflected in the WTO [World Trade Organisation] forecast for 2023, released recently, which has projected it to grow at 1% only," the Federation of Indian Export Organisations (FIEO) said in a statement.
The federations added that "India, being a domestic demand-driven economy, will not be much impacted by these developments though we will not be insulated either."
FIEO, however, noted that exporters are working proactively to mitigate the impact of global demand challenges.
The association explained, "While the Russia-Ukraine war is a setback to our exports in the short run, we are looking to increase our exports to Russia once the Rupee payment mechanism gets operationalised. As per our study, we can add about US$5 billion in exports to Russia. With Europe maintaining sanctions on Russia, we expect the trade to divert from Russia to India."
---
Jenny Daniel
Global Correspondent