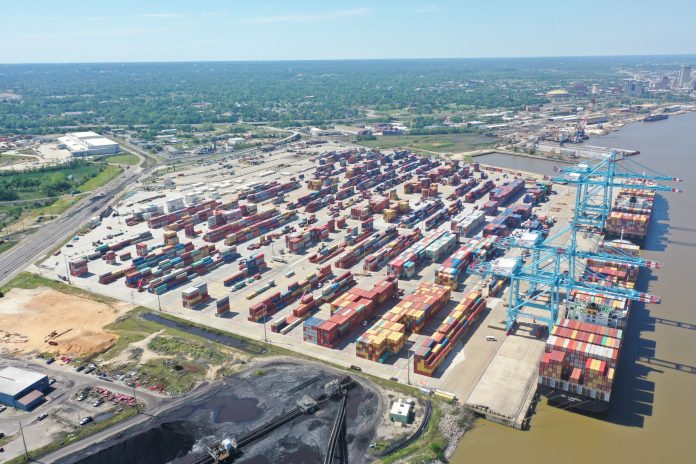 A potential dockworker strike might launch at the Port of Mobile in Alabama, US as the International Longshoremen's Association (ILA) Local 1410 and CSA Equipment Company, a stevedoring provider at the port, do not come to an agreement on workers' payments.
The union members seem to have turned down a third company offer last month, while the workers at the port of Mobile have been without a contract since October 2018.
The potential strike actions, if an agreement has not been reached until 20 October, do not seem to affect the Port of Mobile operations for now. The Alabama Port Authority announced another container record, handling more than 56,500 TEUs in September, surpassing the previous box record in July and marking September as the largest throughput month since APM Terminals' container operations began in 2008.
With more than 420,000 TEUs moved from January to September at the port, 2022 volumes are now 14% higher than 2021 volumes. In addition to record-breaking container numbers, intermodal rail moves in September were up 141% over 2021, and refrigerated cargo was up 16% over the same period, according to Alabama Port Authority's data.
"In addition to serving all 67 counties in the state, we are strategically positioned to offer service directly into the middle of the country, providing an uncongested and fluid gateway into key North American markets in less time and at less expense than other coastal ports," said Port Authority director and CEO, John C. Driscoll.
As the deepening and widening of the federal channel to a 15-metre depth continue to progress on time and on budget, the Port of Mobile expects even more growth in the future.
Furthermore, the Port Authority's partner and terminal operator, APM Terminals, will expand its capabilities to one million TEUs upon completion of the Phase IV expansion. In addition to the terminal expansion and the harbor deepening and widening project, the Alabama Port Authority will open a new inland intermodal facility served by CSX in Montgomery, Ala. These projects are set to come online in 2025.