Singapore-based multi-purpose (MPP) vessel operator, AAL Shipping has been carrying many containers amid the red-hot box shipping market.
It has been widely reported that MPP ships with container capacity have been utilised to carry containers as good demand has seen almost all available boxships being activated.
Speaking to Container News, AAL Shipping's head of communications, John Pittalis said, "In 2021, the over-spill from the capacity shortage in the container market has significantly impacted the freight rate growth within the MPP sector and throughout the year, the market has continued to be very tight, experiencing heavy cargo demand, with limited fleet capacity and mostly driven by container requests."
After 11 years of losses going back to the 2008 global financial crisis, AAL Shipping achieved a US$2.91 million net profit in 2020, something that Pittalis credited to the developing market for wind energy and not containers, especially when the MPP segment was affected by Covid-19, which impacted on cargo readiness and the oil and gas industry.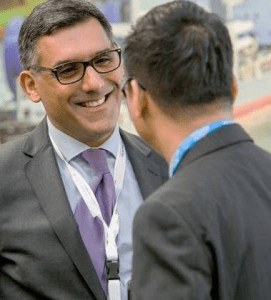 John Pittalis, Head of Communications at AAL Shipping
Pittalis pointed out, "In 2020, the container sector had yet to reach its apex in terms of growth, as markets worldwide we were still relatively buoyant with product stocks, and there was still significant fear of Covid and transporting cargoes freely."
Despite the good profits in the container sector, Pittalis noted that AAL Shipping will stay true to its MPP roots. "AAL is carrying a large volume of containers in its high demand container trades. However, as a specialist project carrier, we have been prioritising breakbulk and project cargoes and servicing the needs of our traditional and long-term customers," he commented.
Pittalis went on to add, "At the moment, most of our fleet space is booked until the end of 2021 – but we have also been receiving a large volume of project cargo bookings for 2022 (all the way to December). All indicators are that our fleet will be busy right through next year, with freight levels either in line or even higher than the current market."
Martina Li
Asia Correspondent