COSCO Ship Holdings (CSH) has ordered ten ships, comprising six 14,092TEU vessels and four 16,180TEU ships from affiliate COSCO Shipping Heavy Industry (Yangzhou).
The 14,092TEU ships cost US$146 million and are scheduled for delivery from December 2023 to September 2024. The 16,180TEU vessels are priced at US$155 million and are expected to be delivered within the second half of 2025.
CSH, holding company for COSCO Shipping Lines (COSCON) and Orient Overseas International Ltd (OOIL), said that the newbuilding orders are in line with the group's 14th Five Year Plan.
"The group can maintain its first-tier position in the industry and corresponding transportation capacity," commented CSH. "In addition, the shipbuilding transaction can lower the group's transportation costs and increase our core competitiveness."
CSH will finance at least 40% of the newbuilding costs from its reserves, and the remaining part of the costs will be funded by bank loans.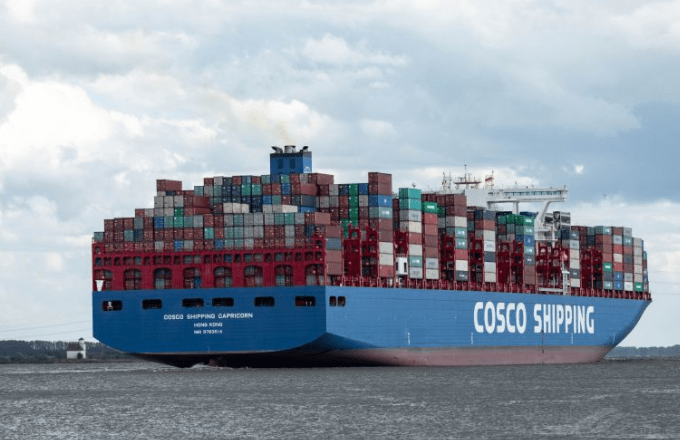 The newbuilding orders come just a week after CSH disclosed that net profit for 1H 2021 is estimated at US$5.73 billion, 46 times the 1H 2020 net profit, as supply chain disruptions continue to push up container freight rates.
Linerlytica analyst Tan Hua Joo told Container News that the CSH order brings the orderbook to 21.2% based on his company's data.
He said, "There's certainly a chase for tonnage given the extraordinary profits from the current buoyant market and I expect more orders to be placed over the coming months."
Tan noted that CSH is paying a relatively high price for this round of newbuildings, which are conventionally fuelled.
Compared with a similar order placed by Minsheng Financial Leasing at Dalian Shipbuilding Industry, the price that CSH is paying is around 20% higher.
Shipyards have been increasing their newbuilding prices due to higher steel costs and demand from ship owners.
COSCO, the third-largest liner operator, has a total capacity of 3.02 million TEU, comprising 181 owned ships and 317 chartered vessels, while the company has also a dozen 23,000TEU ships on order for OOIL at Nantong Cosco KHI Ship Engineering and Dalian Cosco KHI Ship Engineering, for delivery between 2023 and 2024.