The major forwarders may abandon Maersk for fears that the carrier's new "integrated" and "aggressive" business strategy creates conflicts of interest and the carrier wants to cut forwarders out of its business.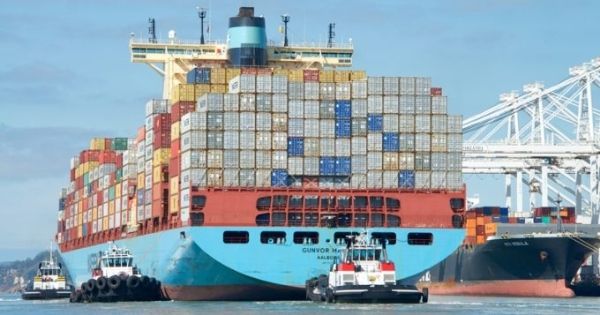 DB Schenker confirmed to The Loadstar that they had lost the key account status with Maersk, but said they had transferred most of their volume to other carriers.
"By May 2020, DB Schenker eliminated more than 90% of the cargo shipped with Maersk and moved them to other ocean carriers," a spokesman said.
"This modification of our carrier portfolio is essential to ensure optimal accessibility and freight rates to our ocean freight customers, while also ensuring optimal network stability. multi ".
"With virtually no production left for Maersk, the termination of critical account status is a reasonable and meaningless consequence to our ability to serve our customers' needs. "
Maersk said it will not comment because of "the security of our customer relationships".
A forwarding source said DB Schenker was not the only forwarder looking to move production away from the Danish shipping line, a forwarding company said it did this month.
Freight forwarders claim that Maersk is becoming increasingly limited in the provision of identity accounts, while Maersk Spot applies a freight rate (FAK – Freight All Kinds), prompting companies It is increasingly difficult for forwarders to manage their tariff schedules and to offer rates to customers. A person at the forwarding company also said that, Maersk refused to offer prices for named accounts (named accounts), instead went directly to see these shippers.
"It [Maersk] is moving from becoming a supplier to a competitor" he said.
Damco's shutdown and the company's NVOCC status upset the market and DB Schenker targeted Damco's customers due to the discontinued services.
Maersk's termination of DB Schenker's critical account status is believed to be the result of that, but one longtime forwarder said, in fact, it was a warning to suppliers. Other services – "Blacklisting Schenker is just a message to say" if you do this, this is how we will treat you ".
A source said two shipping lines have warned customers about using Maersk's cargo management service.
"Maersk can now see how other carriers perform in terms of weekly seat allocation; you cannot believe it has no conflict of interest. "
"It all started with Vincent Clerc [APMM's logistics and shipping director] – as a legal entity, you should not be both the carrier that provides the seats and also make reservations with other shipping lines at the same time. I can't see other carriers like it. It is an aggressive strategy and at some point there will be no retreat. "
"A shipping line's direct contracts require neutrality, which was proposed by Damco. Maersk currently does everything, but the terms are unclear. There is a high chance that other forwarders will do what Schenker did and shift production. "
One source said that would be more difficult for companies like Kuehne + Nagel, which currently transport large volumes on 2M vessels.
"It would be too tricky for them. I'd not be surprised if a lot of forwarders think about this, but it's difficult at the moment as volumes are chock-a-block. It will take a few months, but then you would not be a prisoner to Maersk".
The source confirmed the aggressive behavior in Maersk's DNA: "It was the man who prompted the price wars in 2008/9, hoping it would be the last one that survives."
However, the forwarding company claims there is no such problem with other shipping lines: "That is not a problem, and never happened, if the carrier had some forwarding operations. That is normal."
CMA CGM – Ceva's owner – is doing some integrated marketing activities, but CMA and Ceva have separate management and they clearly differentiate their behavior. Ceva is not a big player, and Rodolphe Saade [CMA CGM CEO] is smarter, and understands that he cannot rule the world.
"Ceva was being actively sold, and it was an opportunity he took to turn a loss-making company into a profit-maker. I wouldn't be surprised if CMA sells it, and there is no reason to believe that their behaviour will change. MSC, Hapag Lloyd, all the others behave like partners".
A midsize independent logistics company spokesperson said he is currently not concerned about Maersk, although it is "confusing" and agrees that he is not concerned about CMA / Ceva: "Yes Maybe the next stage for CMA / Ceva will be to work more cooperatively, but our trust in them is now very good.
"If you are K + N or DHL, you may be worried, because they are the biggest customers and competitors. You can think twice before you send them client profiles. But CMA is not enough for that.
"But Maersk is still a bit confusing, and it'll be interesting to see what it is trying to do."
Meanwhile, a forwarding company thinks that publicly teasing DB Schenker could be a bad move for Maersk.
"DB Schenker, together with Deutsche Bahn, could probably take all the central European business if Maersk wants to play hardball. Maersk is trying to change the game and whomever I speak to says the same – long-term, Maersk doesn't want forwarder business."