A.P. Moller-Maersk signed a Memorandum of Understanding (MoU) with Shanghai International Port Group (SIPG) on strategic collaboration for the Shanghai Port methanol maritime fuel project.
The two parties will join hands to explore green methanol fuel vessel-to-vessel bunkering operation after the delivery of Maersk's green methanol container ships in 2024.
The Danish ocean carrier has set a net-zero emissions target for 2040 across the entire business, and the delivery and operation of its 19 vessels with dual-fuel engines able to operate on green methanol will accelerate the evolution of climate neutral shipping.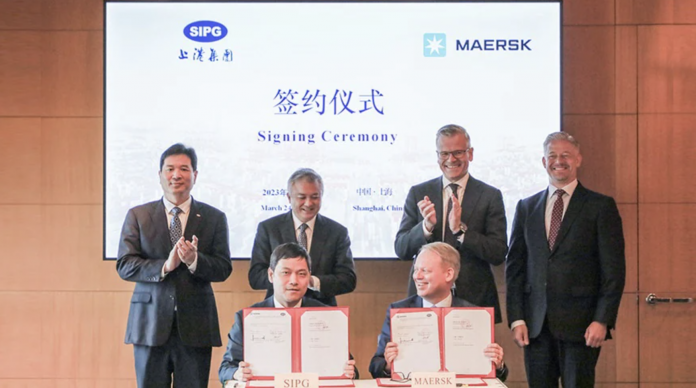 Henry Huang, Marketing Director of SIPG and Jens Eskelund, Chief Representative, North Asia, A.P. Moller-Maersk sign the MOU on behalf of the company (front ); Alex Yan, President of SIPG, Jinshan Gu, Chairman of SIPG, Vincent Clerc, CEO of A.P. Moller-Maersk, Ditlev Blicher, President, Maersk Asia Pacific witness the signing ceremony.
"Therefore, establishing port bunkering infrastructure for methanol is imperative and critical to achieving this goal," pointed out the company.
The agreement will also support the aspiration of Shanghai Port to become one of the world's first commercial green methanol refuelling points, and a regional green methanol fuel bunkering centre.
Maersk and SIPG will expand their collaboration in phases. In the first phase, SIPG, as Maersk's potential energy bunkering service provider, will carry out services of vessel-to-vessel bunkering and fuel tank storage at port.
In the potential second stage, the two partners will explore how to form an all-around energy strategic partnership to promote the extension from bunkering services to the upstream of the green methanol industry chain.