Ningbo Port's Meishan Island International Container Terminal (MSICT) has nearly returned to normal operations, after a Covid-19 infection halted operations there on 11 August.
French liner operator CMA CGM said in a customer advisory on 24 August that MSICT has been resuming partial operations since 18 August.
"We expect a gradual return to full operations in the coming weeks," noted the Marseille-based carrier.
Cargo operations on two of the company's ships, CMA CGM Rivoli and CMA CGM Samson, which were disrupted when MSICT temporarily shut, have since been completed.
CMA CGM Samson left the terminal on 20 August and is on its way to Shanghai's Yangshan port while CMA CGM Rivoli departed MSICT on 21 August and arrived in Yantian today (25 August).
Ship agency sources told Container News that MSICT is expected to resume normal operations by 1 September.
However, MSICT's yard remains closed to container movements in and out until further notice.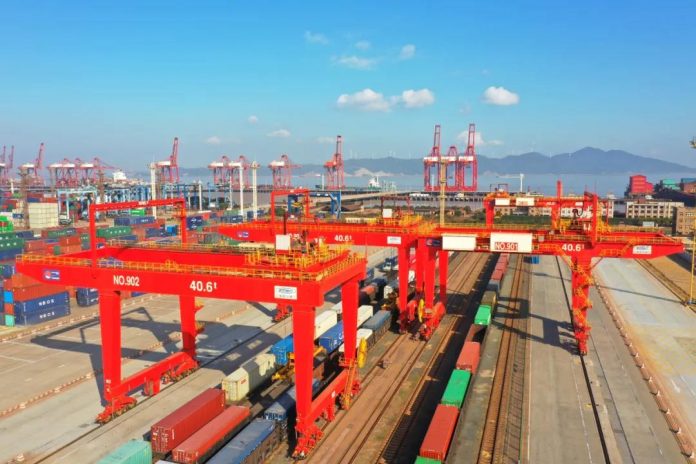 CMA CGM added that Ningbo Port Group is working out arrangements for its vessels to operate in one of Ningbo's five other terminals with minimum disruption.
Shippers should expect a waiting time of two to five days and gates will open for export containers only within two days of the ship's estimated arrival time.
In the meantime, three other ships, CMA CGM Concorde, Mundra and Lekki, will skip Ningbo, the world's third busiest container port.
The 2M Alliance comprising Maersk Line and MSC said that their Ningbo-bound vessels will mainly call at Ningbo Beilun Container Terminal Phase 4, which has a current waiting time of two to three days, up from 1.5 to two days previously.
The Danish box line said in an updated customer advisory that ships on the Asia-West Africa service are now calling Ningbo-Zhoushan Yongzhou Terminal, which has a two-day waiting time.
Maersk added that several ships on its AC6 Asia-South America, namely APL Barcelona, Seaspan Oceania, CMA CGM Musca, APL Le Havre and Hanover Express, will skip calling at Ningbo. Shippers have been advised to move their cargoes to CMA CGM Hydra, which is also deployed to the same route.
Martina Li
Asia Correspondent