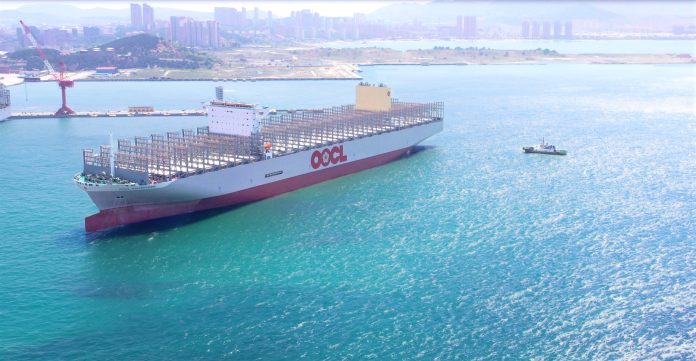 OOCL Felixstowe is the fourth 24,188 TEU vessel in OOCL's fleet.
Orient Overseas Container Line (OOCL) strengthens its vessel fleet by adding another 24,188 TEU container ship, named OOCL Felixstowe and built at the Dalian COSCO KHI Ship Engineering, (DACKS) shipyard.
The new ship is the fourth eco-friendly 24,188 TEU vessel to be received by the COSCO-owned ocean carrier in a series of 12, and will be serving the Asia-Europe LL3 service with its three sister vessels.
The port rotation of OOCL Felixstowe will be Shanghai (China) – Xiamen (China) – Nansha (China) – Hong Kong – Yantian (China) – Cai Mep (Vietnam) – Singapore / Piraeus (Greece) – Hamburg (Germany) – Rotterdam (Netherlands) – Zeebrugge (Belgium) – Valencia (Spain) – Piraeus (Greece) – Abu Dhabi (UAE) – Singapore – Shanghai (China)
At the naming ceremony of the vessel, Yang Zhijian, CEO of OOCL, commented, "We ordered this series of ultra large container vessels not only to provide better services to our customers but also to enhance our cost competitiveness and to seize the initiative for future development."
Sources: Container News