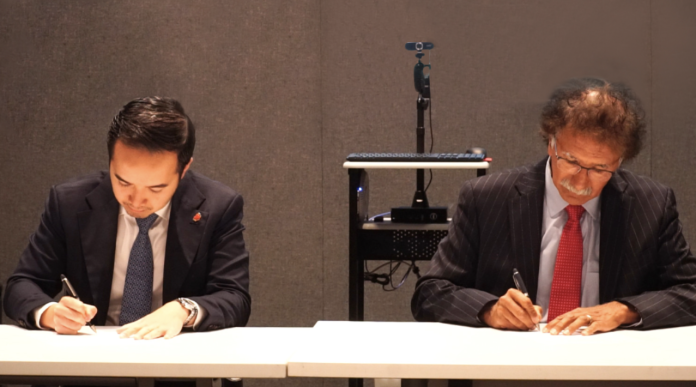 Vietnam's Long An International Port and California's Port of Long Beach signed a letter of intent on 15 November to establish a sister port relationship, aiming to explore opportunities for collaboration, sharing of experiences in port management and operation, improving market connectivity to increase transshipment cargo volume and long-term development.
"We are glad to welcome the delegation of Long An Province and leaders of Dong Tam Group attending the Conference of California Association of Port Authorities (CAPA) are pleased to sign a Letter of Intent with Long An International Port. This signing ceremony demonstrates our desire to promote the signing of cooperation agreements not only for trade purposes but also towards sustainable development, emissions reduction, and environmental friendliness," stated Mario Cordero, CEO of Port of Long Beach.
The Long An Provincial delegation, led by Vice Chairman of the Provincial People's Committee Nguyen Minh Lam and Vice Chairman of the Provincial People's Council Mai Van Nhieu, aims to connect businesses in Vietnam and US localities in the fields of industry, digital transformation, import-export services, logistics, and education, among others, within the framework of the program to visit and work in the United States.
The cooperative partnership between Vietnam and the United States has made significant progress with activities promoting economic-trade-investment cooperation having brought together many interested agencies, associations, and businesses from both countries with the goal of promoting bilateral cooperation based on foreign relations as a result of the two countries' close relationship following their upgrade to a comprehensive strategic partnership.