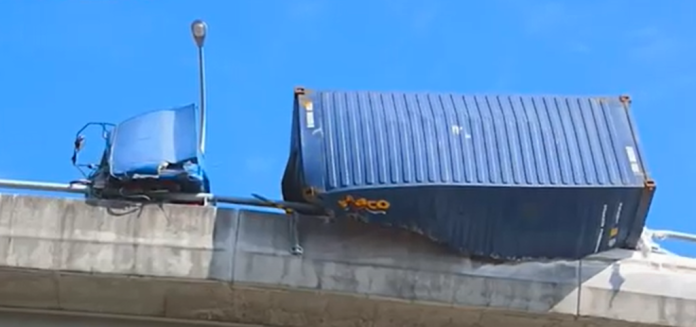 A container truck departing Kaohsiung port was left half hanging in mid-air after the driver lost control and hit the guardrail of a highway in the city.
Taiwanese police said that the accident, which happened around 9.20 am (local time) on 16 November, is believed to have been caused by speeding along National Highway 1, causing the truck to hit the guardrail and flip to its side over the flyover railings.
When the police arrived at the scene, they found the driver, surnamed Wu, trapped in the vehicle.
Nineteen firefighters rushed to the scene in eight vehicles and, in order to reach Wu, they had to set up ladders from the road below the flyover. Scaling the ladders, the firefighters carefully removed the windshield of the container truck to get Wu out. The process took more than an hour, during which there was traffic congestion on the flyover and the road below. To facilitate the rescue operation, the exits from the highway to Kaohsiung Port Container Centres 1 and 2 were closed, and motorists were advised to divert.
Wu was found conscious, with bruises on his hands and feet. His injuries were not serious and he was sent to a hospital.
Meanwhile, the truck, still with a container loaded, continued dangling precariously over the guardrail, 9 to 11 metres above the flat road below the flyover. A crane was then deployed to the scene to move the container truck back to the road.
---
Martina Li
Asia Correspondent