Demand for cargo on major trade lanes has increased substantially and the returns to the shipping lines and vessel owners have also increased with billions of dollars-worth of profits reported for the first quarter of this year by the lines and as the demand and profits have risen so have time charter rates and vessel speeds. Effectively raising carbon emissions too.
According to VesselsValue, average laden vessel speeds hit an all-time low in May 2020 with the pandemic spreading, demand falling, blank sailings and port congestion all playing a role. Average ship speeds hovered around15kn in May and June, while, at the same time average time charter rates slid even further to US$12,000/day on average.
"Post Panamax average speeds between June 2020 and April 2021 have increased significantly by 8.5%. Across the same time period, Post Panamax [time charter] rates have risen by 350%, from US$12,000 per day in June 2020, to now currently reaching US$54,000 per day in April 2021," said VV.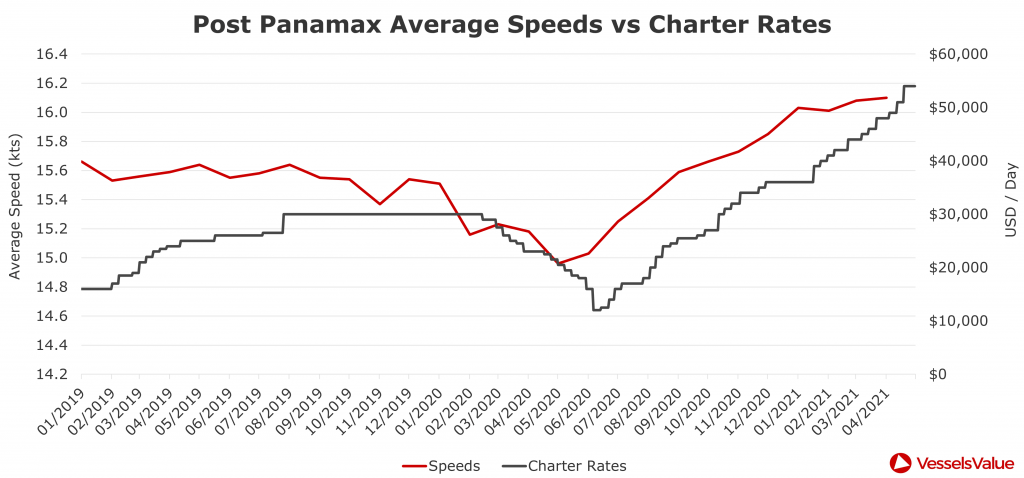 Growth in demand is expected to increase 5.3% compared to the pre-Covid levels seen in 2019, with demand in 2020 having declined 0.7%. In its analysis, VV says that vaccination levels and the boost in online shopping have maintained demand and even increased it from the second half of last year and could continue to increase into 2022.
"The large relief packages in the US are also likely to support Eastbound Transatlantic shipments and paired with a likely weakening and more competitive US dollar, the export market could strengthen overall backhauls for the main lanes. As we argue that both consumer and business confidence are likely to strengthen throughout the year, 2022 is estimated to maintain a healthy demand growth of around 4%," said VV in its forecast.
Meanwhile, the Freightos Baltic Index (FBX) has seen similar increases to spot rates in the major trades during the same period. On 6 May 2020 Asian exports to the US attracted spot rates of US$1,616/FEU, on 6 May this year the FBX on the Pacific recorded rates of US$5,144/FEU.
In the same period on the Asia to Europe trades, FBX recorded spot rates of US$1,466/FEU on 6 May 2020 and US$8,248/FEU by 6 May 2021.
It seems that there is a correlation between demand for capacity, ship speeds, time charter rates and freight rates. The bigger the demand the higher that rates rise, but also the faster the ships travel to meet that demand, in an effort to raise capacity.
Although the actual data for emission levels for this year is unavailable, it is known that as ships travel faster they burn fuel at a greater ratio. That is a ship travelling at 15kn for 10 miles will burn less fuel than a vessel sailing at 20kn over the same distance, and therefore they will create more greenhouse gas emissions.