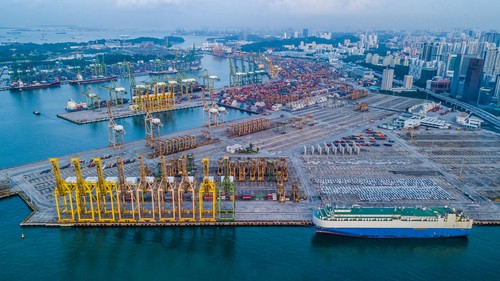 Singapore is ranked the top maritime centre in the Xinhua-Baltic International Shipping Centre Development Index (ISCDI) Report for the tenth consecutive year.
The report, published jointly by the Chinese state news agency Xinhua and global marine data supplier Baltic Exchange, names Singapore as the world's leading maritime centre, followed by London and Shanghai.
Singapore received 95.32 points out of a possible 100, while the marine support services powerhouse of London received 83.35 points and the port city of Shanghai received 81.58 points.
Singapore has topped the Index since it started a decade ago. Its position has been maintained as a result of its winning mix of strategic location, worldwide vision, and developed ecosystem of competent global marine services and strong governance.
For the previous four years, London and Shanghai have held the second and third positions in the Index.
There was minimal change in the top 10, with Hong Kong, Dubai, Rotterdam, and Hamburg taking fourth, fifth, sixth, and seventh position, respectively.
Furthermore, the trading capital of New York and its New Jersey port fell two places from eighth to tenth this year, while Athens/Piraeus rose by one place. Ningbo-Zhoushan, a newcomer to the Index, is ranked ninth. The Chinese city's placement in the top ten is mostly due to its status as the world's busiest port in terms of cargo tonnage.
This report rated 43 maritime locations, taking into account port factors such as cargo throughput, crane count, container berth length, and port draught.
According to a statement, the number of players in professional maritime support businesses such as shipbroking, ship management, ship financing, insurance, and law, as well as hull underwriting premiums and general business environment factors such as customs tariffs, the extent of electronic government services, and logistics performance.