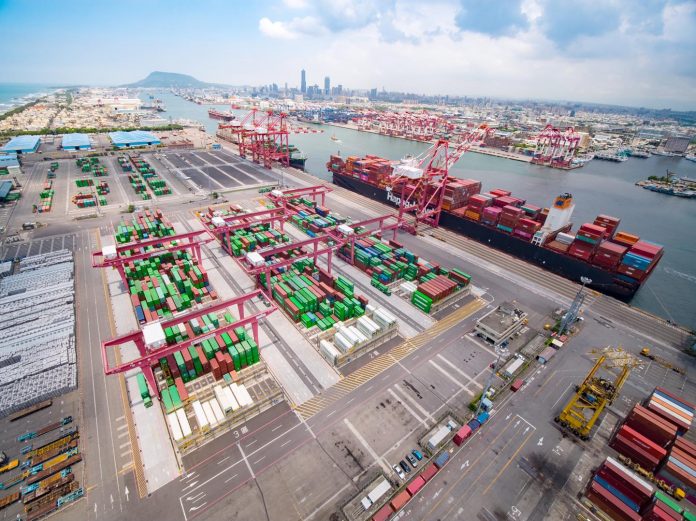 Taiwan's Ministry of Economic Affairs (MOEA) has assured that there is a low risk of mainland Chinese influence in the country's ports after opposition lawmaker Hwang Kuo-chang brought the ministry to the attention of an article in French publication Le Point.
The article alleged that the Chinese government, through the Chinese state-owned shipping group COSCO, has a 30% stake in Kao Ming Container Terminal Corp., which has a 50-year concession to operate Terminal No. 6 in Kaohsiung port. COSCO's stake is held via a Taiwan-incorporated entity whose Chinese name is literally translated as Cheng Lung Investment. The article also pointed out that OOCL, which leases berths 65 and 66 in Kaohsiung, is a COSCO subsidiary.
In response, MOEA said on 24 October that its investment review committee and the Ministry of Transport and Communications had studied and approved Cheng Lung Investment's involvement
The ministry added that the interest of Chinese shareholders in state infrastructure is not to exceed 50% and their stakes must be less than those held by other foreign investors. Chinese interests are also barred from having any control over the operations of state assets.
Taiwan-China relations have often been fraught since the island broke away from the mainland after the Chinese Civil War in 1949.
MOEA pointed out that the state-backed liner operator Yang Ming Marine Transport, is Kao Ming's largest shareholder, with a stake of 47.5%. Yang Ming's chairman, Cheng Cheng-mount, is, concurrently, Kao Ming's chairman. The ministry added that the government is the one who appoints Kao Ming's chairman and general manager.
Yang Ming is also planning to increase its shareholding in Kao Ming and expand its control.
Hwang's question coincides with the controversy surrounding COSCO Shipping Ports' proposed investment in a Hamburg terminal, through acquiring up to 35% of Container Terminal Tollerort GmbH, a subsidiary of German port and terminal operator Hamburger Hafen und Logistik AG (HHLA).
The acquisition has sparked concern about what appears to be China's growing economic imperialism, manifested through the Belt and Road initiative. In October 2021, COSCO upped its stake in Greece's Piraeus Port Authority to 67%.
HHLA has asserted that COSCO is merely investing in a terminal in Hamburg and that the port will not be sold to China.
---
Martina Li
Asia Correspondent