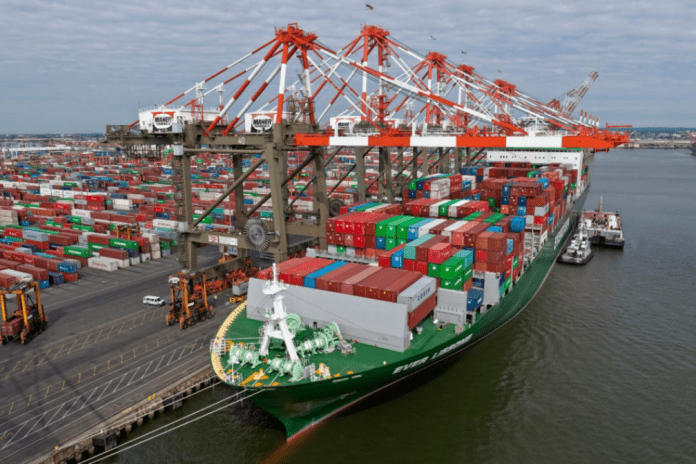 After a busy July that saw the Port of New York and New Jersey achieve its highest total container volume since October 2022, August saw the port's activity fall to pre-pandemic levels.
The port handled 662,740 TEUs (366,339 containers) in August compared to 843,191 TEUs (466,640 containers) in August 2022, a 21.4% decline, bringing its total volumes during 2023 to 5,128,563 TEUs (2,847,453 containers).
These decreases are primarily attributable to US retailers continuing to draw down their overstock of inventory supplied during the two-year record cargo surge, according to the port's statement.
Meanwhile, imports fell 18.6% year-on-year in August, totalling 348,921 TEUs. From January to August of 2023, imported loads at the Port of New York and New Jersey reached 2,618,556 TEUs versus 3,345,305 TEUs in the same period of 2022 in a 21.7% decrease.
August exports totalled 106,025 TEUs, a 2.8% year-on-year decline, while export cargoes totalled 857,552 TEUs (463,834 containers) from January to August, a 1.5% drop from the same period last year.
Export empties fell 32.1% in August, totalling 206,064 TEUs. From January to August, export empties totalled 1,638,833 TEUs, a 28.6% decline from the same months in 2022. On the other hand, import empties increased by 8% year-on-year for the period January-August.
Additionally, rail traffic declined by 15.4% in August compared to the previous year's levels reaching 56,469 containers. Rail volume was 13.2% lower in January to August from the same period in 2022.
Last but not least, in August, the Port of New York and New Jersey handled 28,443 vehicles, a 12.3% decline from the previous year.
Sources: Container news