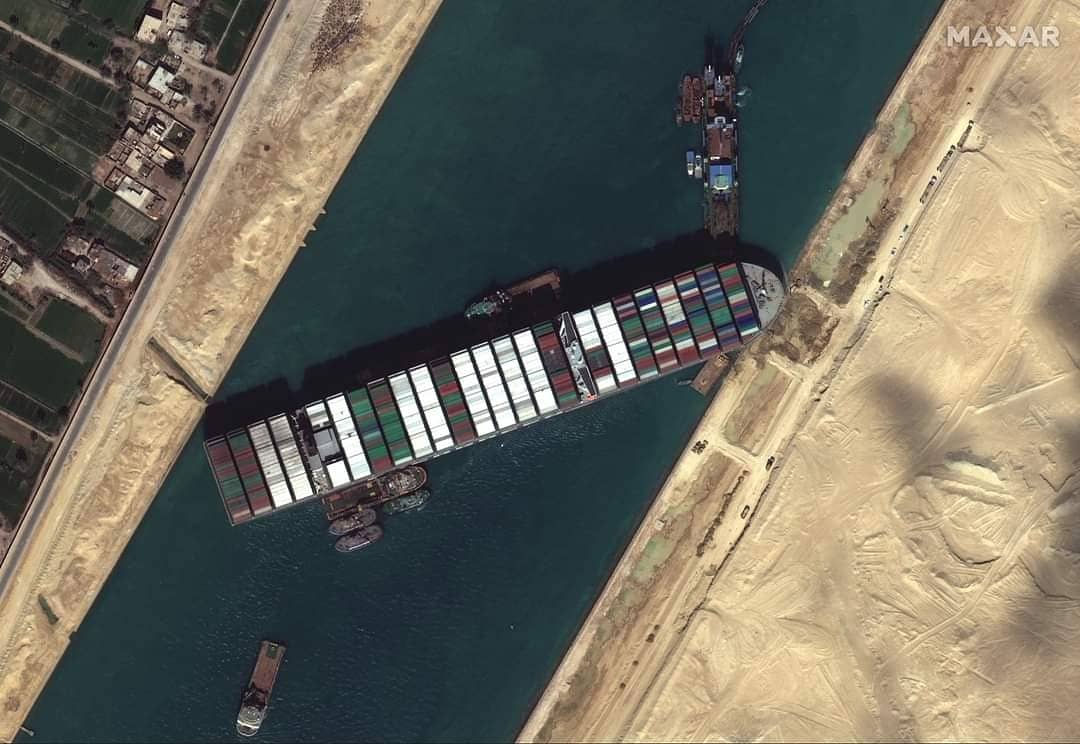 Salvage teams from the Suez Canal Authority (SCA) have said that they have successfully moved the bow of the stricken ship five metres as the tide rises, but the best chance for removing the vessel will come later today as more powerful tugs arrive and the high tide aids the recovery.
SCA customer notifications suggest that another major attempt to re-float the vessel will take place today with hopes rising that the ship may be salvaged within hours rather than weeks. Yesterday the salvage team freed the stern area allowing the propeller to move.
The ALP Guard registered in the Netherlands and the Carlo Magno, from Italy are expected to give a far greater bollard pull when they vessels arrive on the scene later today. However, the focus of the expert salvage teams will focus on the strength of the mooring bits, the points at which the towing lines are attached to the Ever Given, which are normally used to tow the ship when it is afloat.
In its latest update on the salvage operation from 27 March, Bernhard Schulte Shipmanagement (BSM) said that the vessel's rudder had been "released", and that "Eleven tugs have been working throughout the day alongside the ongoing dredging operations which continue to remove sand and mud from around the port side of the vessel's bow."
Two Suez Canal dredgers also remain in place removing the clay and soft sediment that the bow section of the ship is beached on, in an effort to give the tugs the best chance of pulling the vessel free.
High tides are expected today through to Tuesday and it is this period that represents the best chance of pulling the vessel free, without undergoing the lengthy process of unloading cargo containers, oil and water, which could take several weeks.
In its daily statement on the Ever Given's situation Evergreen said that more than 20,000 tonnes of sand and mud, had been dredged from under the vessel's bow, "loosening" the ship from the bank's grip.
"The rudder and propeller of the vessel are fully functional and expected to provide additional support to tugboats assigned to move the container ship from the accident site so that normal transit may again resume within the canal," added Evergreen.
Further attempts to re-float the ship will take place at 2pm local time, added the line.