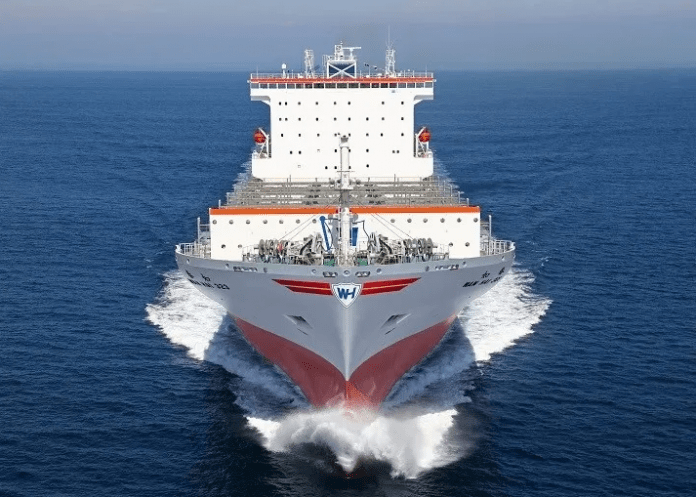 Wan Hai chairman Chen Bo-ting believes the freight market will turn around in mid-2023, as concerns over Russia's invasion of Ukraine and Covid-19 should ease by then.
Since the middle of the year, freight rates have fallen from historical highs and are expected to reach the low levels seen before Covid-19 hit in 2020.
Chen said, "Overall, things aren't as bad as what many people imagine. Today's situation isn't as bad as the 2008 global financial crisis. Now that it's year-end, employees are wondering about their bonuses but we will do our best."
Speaking at a community event, Chen pointed out that the global economy is affected by three factors.
The first is substantial costs caused by inflation, as this is putting the brakes on consumption growth, leading to a decline in container cargo volumes. The second factor is psychological expectations, and the third is structural problems brought about by geopolitics and epidemic prevention policies.
Alluding to psychological factors, Chen mentioned that the supply chain bottlenecks saw the rise of emerging industries such as Uber Freight, which has led to the crowding out effect and caused manpower shortage in the manufacturing chain. However, Chen thinks the overcapacity can be adjusted in the next six months to twelve months.
Chen believes that concerns over the Russia-Ukraine conflict and pandemic preventions should ease in 2023, as more economies are reopening and people get accustomed to the impact of the conflict.
Speaking at the same event, Wan Hai general manager Tommy Hsieh said that half of the company's revenue on Transpacific routes comes from long-term shipping contracts.
Hsieh said, "There's no doubt about making a profit in the fourth quarter of this year. As for the market situation next year, it still needs to be observed, and it is estimated that there will be no losses."
---
Martina Li
Asia Correspondent