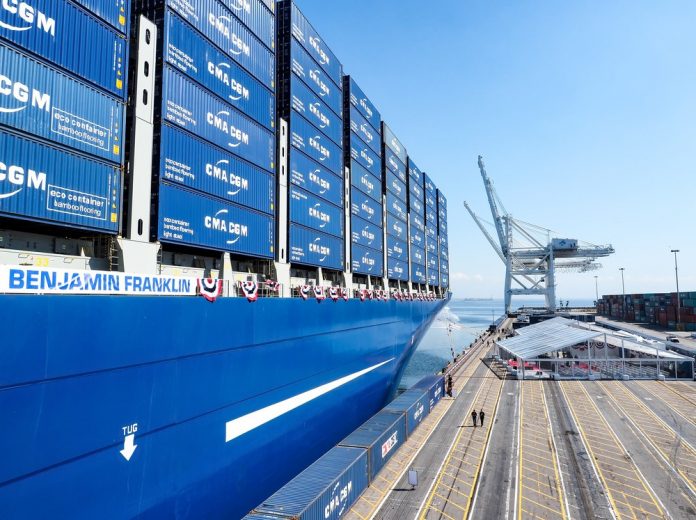 The board of directors of the CMA CGM Group met under the chairmanship of Rodolphe Saadé, the company's chairman and chief executive officer, in order to review the financial statements for the third quarter of 2022.
According to the group's statement, CMA CGM showed very strong financial results despite inflation, slowing consumer spending and economic uncertainty.
Commenting on the 2022 Q3 results, Rodolphe Saadé said, "The CMA CGM Group once again recorded strong results in the third quarter. Over the past two years, we have significantly strengthened our financial structure and developed our business through the entire supply chain."
He added, "Declining demand has prompted a return to more normal international trade flows and a significant reduction in freight rates. In this new environment, we will continue to invest to strengthen our positioning in maritime shipping and logistics, accelerate our energy transition and provide our clients with even more efficient solutions."

The French ocean carrier's revenue stood at US$19.9 billion in the third quarter of 2022, mostly driven by the group's maritime shipping business, while the company's earnings before interest, taxes, depreciation, and amortisation (EBITDA) reached US$9.15 billion with an EBITDA margin of 46%.
CMA CGM noted it continued to strengthen its balance sheet, supported by its operating performance. Its net debt totalled US$78 million as of 30 September 2022, (after accounting for current financial investments), down US$5.3 billion from 30 June 2022.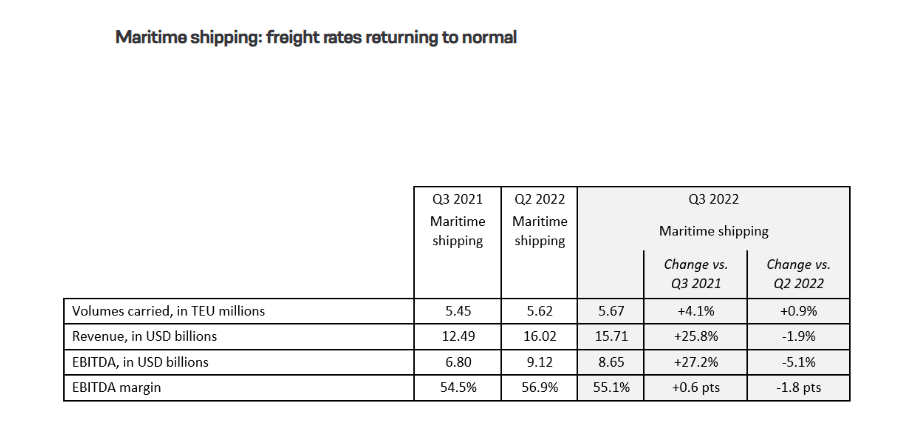 Meanhwile, the Marseille-headquartered container line moved 5.7 million TEUs in the third quarter of the year, translating to a 4.1% growth compared to the same period in 2021.
CMA CGM Group expects energy costs to remain high, weighing directly on its operating expenses and, more generally, on consumer spending, particularly in Europe. Αt the same time, the company anticipates a faster return to more normal freight rates in the fourth quarter and lower margins.