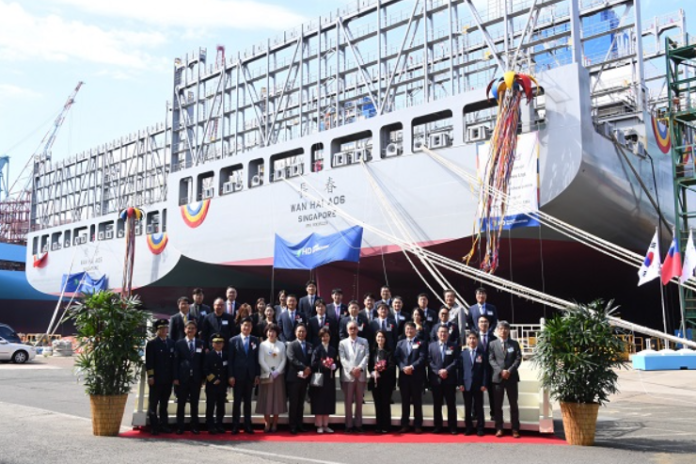 Wan Hai Lines held a joint ship naming ceremony for Wan Hai A05 and Wan Hai A06, accompanied by a charity donation, at HD Hyundai Heavy Industries Ulsan Shipyard.
These are the fourth and fifth vessels in the series of 13,200 TEU container ships built by the shipyard in Ulsan, South Korea.
The newbuilding series is designed with a length overall of 335 meters, a breadth of 51 meters, a draft of 16 meters and a maximum cruising speed of 22 knots. The container ships are expected to take energy efficiency and environment-friendly aspects into account.
More specifically, they are equipped with full balanced twisted bulb rudders, pre-swirl fin and meet the highest level of requirement for EEDI (Energy Efficiency Design Index) for phase III in advance. Besides, all the ships delivered are certified with "Smart Ship" notations.
The two new boxships will be delivered in mid-October and mid-December respectively and will be deployed in the Far East to America services.
In the meantime, the Taiwanese ocean carrier made a donation to Ulsan Donggu Welfare Center, the charity that provides residential care to disabled people.
Sources: Container News