The situation at the Port of Yantian has not shown any signs of improvement yet with the global shipping lines announcing additional measures to control the effects of the evolving container terminal congestion and disruption in and around the Port of Shenzhen.
The Covid-19 related inspection and preventive measures have been tightening by local authorities not only in the Shenzhen area but also in the Guangzhou area recently.
Due to further measures being implemented, increased congestion and vessel delays upwards of 16 days are expected in Yantian port, according to the largest container carrier in the world, Maersk Line. "The situation continues to deteriorate as more positive Covid cases have been confirmed in Shenzhen where Yantian port and Shekou port are located and in Guangzhou where Nansha port is located," said the Danish company in its latest update.
Additionally, Yantian International Container Terminal (YICT) yard density remains elevated with disinfection and quarantine measures being continuously implemented by local authorities to prevent the spread of the pandemic, according to Maersk, which expects continued terminal congestion and vessel delays.
Another top-10 container line, the Singaporean Ocean Network Express (ONE) has confirmed the port keeps working at low productivity and announced that its several vessels are going to omitting their usual calls at the terminals of Yantian, due to the ongoing disruption.
"YICT has been kept working at low productivity due to the continued Covid related work restrictions along with high yard density; other terminals including Shekou Container
Terminal (SCT) and Chiwan Container Terminal (CCT) are also operating at surged traffic with yard density well over 90%," pointed out ONE.
Moreover, the road congestion in and around the port areas is observed with extended waiting time for both empty and laden container movements around the gates, according to ONE's announcement.
Therefore, terminals have issued notices about adjustments to their export laden gate-in operation as follows:

The company added it may need to adjust the original transportation plan for reefer shipments to the Yantian port, a move that may cause an extended period of storage of inbound reefers at transshipment port or the discharge of reefer containers at an alternative port without prior notice.
ONE said it "shall endeavor to arrange onward transportation from the alternative discharge port to the originally intended destination subject to reefer plug availability."
Additionally, ONE believes that the best solution for its customers is the change of destination to other alternative ports, especially for time-sensitive cargoes such as fresh, chilled commodities.
At the same time, the Singaporean carrier has decided to apply a congestion surcharge of US$1,000 per container to cover additional costs related to the unexpected but necessary arrangement of shipments and associated plug-in charges and monitoring fees.
If a change of destination (COD) is requested to discharge inbound reefers from Yantian to other alternative ports, CGD and COD administration fees can be waived.
This measure is effective immediately for all reefer cargo arriving into Yantian from 10 June 2021 onwards, and for regulated trades, the effective date will be 11th of July 2021 until further notice.
In the meantime, the container shipping companies continue to announce additional port omissions, due to the severe port congestion and disruption in the region.
In its latest update, Hapag-Lloyd has published the following omissions, on the noted Transpacific services, aiming to "minimise vessel idle time and port congestion."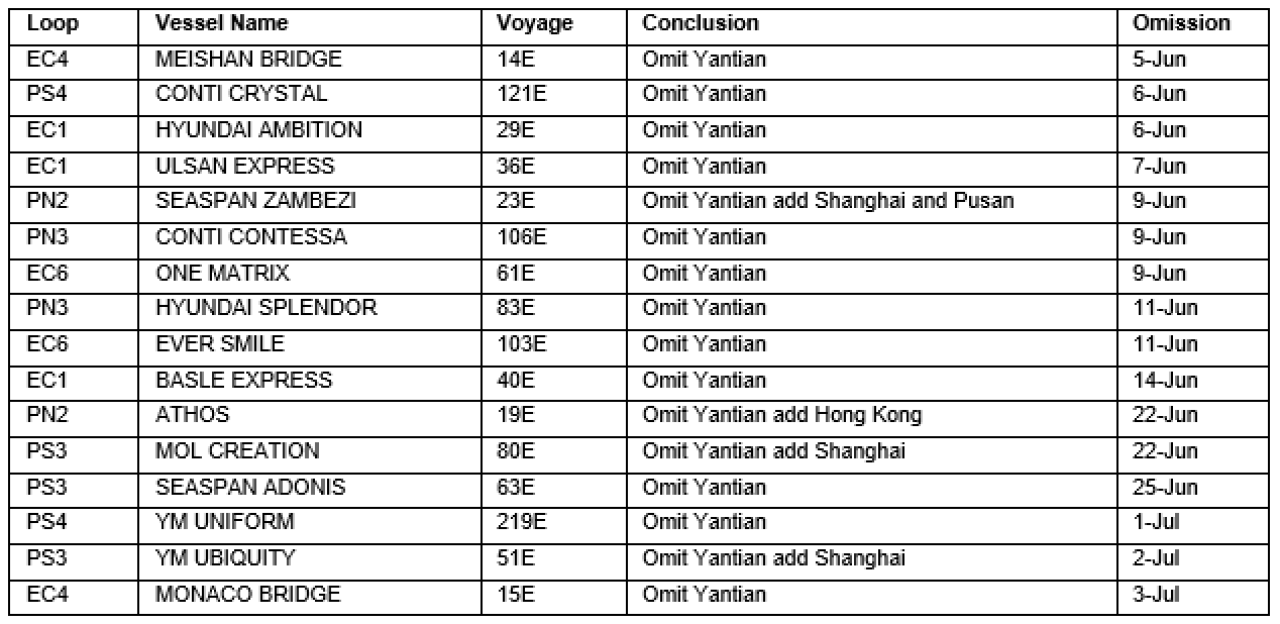 Furthermore, ONE has announced the following port omissions at the terminals of Yantian or Shekou.