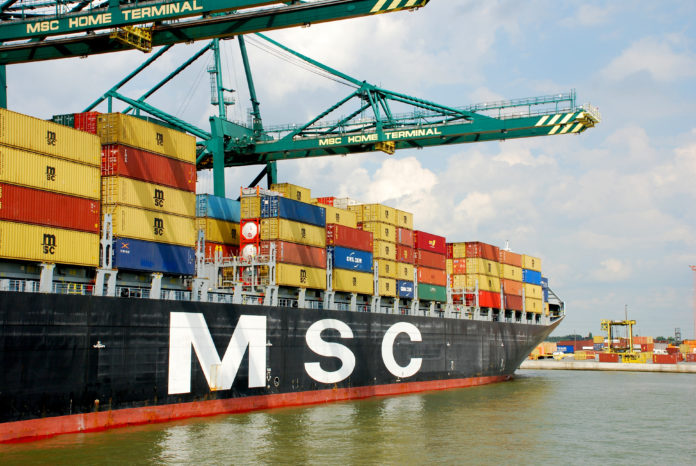 Raising the prospect of market corrections, Mediterranean Shipping Co. (MSC) has recalled its trade advisories seeking new rate increases on India-US routes, ostensibly because of growing demand challenges.
MSC had planned to apply a hefty general rate increase (GRI) of US$1,500 per container from mid-August, followed by a peak season surcharge (PSS) of US$ 1,000 per container from 22 August.
"The GRI from India to the US and San Juan, Puerto Rico, effective 15 August handover has been cancelled," MSC Agency (India) said in a revised advisory.
The carrier has also issued a similar advisory for the cancellation of PSS. It had originally set a PSS of US$2,000 per box.
"The shipping lines have been consistently repositioning empty containers into the country at a huge cost and increasing their capacities so as to help the Indian export trade," the Container Shipping Lines Association (CSLA) said in a statement to Container News.
"These efforts have continued this year too, which have contributed towards the softening of the rates."
CSLA further noted, "During 2021, 1.85 million TEU of empty containers were repositioned into the country and new services introduced, thereby increasing the capacity by about 35,000 TEU a week."
Local freight forwarder sources have also noted the evolving positive signals for cargo owners hit hard by soaring rates.
Mumbai-based Freightwalla told Container News that "Due to geopolitical tensions, prices were anticipated to go up, but many shippers and forwarders across the European and the US belt predicted low rates due to softening demands."
"Indian coasts are also running dry due to the monsoon season's low export volume. Similarly, in Q2 2022, Asia to the US west coast fell 50% and is continually dropping. A similar drop was seen in Asia to Europe routes. As markets reopen and demands soften, the oversupply forced the price correction of the containers. Additionally, the average container prices and leasing rates have been declining globally since the start of the new year. The lowering rates in the spot pricing help bring down long-term contract rates."
Freightwalla added, "The reduction in ocean transportation costs is excellent news for the MSME [micro small-to-medium enterprises] exporters after two years of rapid rate surges. It is a time for small and medium-sized businesses to leverage the situation and build up international trade operations."
Meanwhile, MSC's Himalaya Express (HEX) Service, a premier weekly connection for Europe, had another blank sailing for India last week, continuing sporadic schedule disruptions on the network. In a trade notice, the company said that the void call was due to "ongoing challenges with congestion at various (global) ports and schedule delays."
---
Jenny Daniel
India correspondent