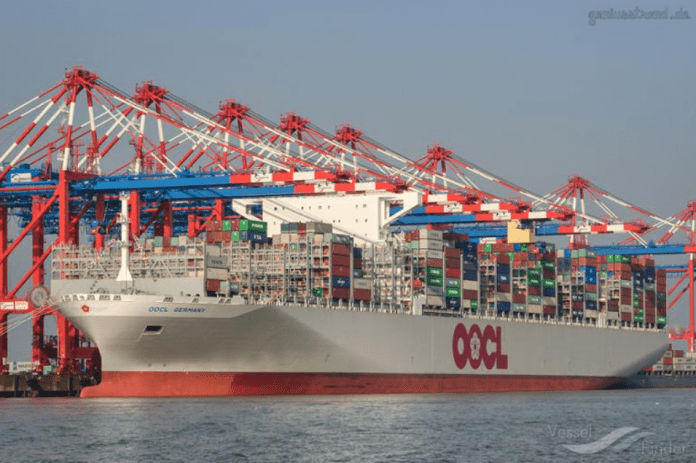 Orient Overseas Container Line's (OOCL's) net profit for the first half of 2022 doubled from the same period of 2021 to US$5.66 billion, even as the Hong Kong-based carrier moved fewer containers as the freight market corrected.
During the first six months of the year, OOCL, which was acquired by COSCO in 2018, carried 3.64 million TEU, slightly down from the 3.93 million TEU shipped in 1H 2021.
The first half of 2022 produced the highest half-year revenue in OOCL's history, as the company's income totalled US$11.06 billion, up 58% from the US$6.99 billion collected in 1H 2021.
OOCL said, "As has been the case for over two years, our market is neither enjoying an extraordinary demand boom, nor suffering from any lack of vessels in deployment. Rather, levels of demand, which are better than expected but not phenomenally strong, continue to outpace the effective level of supply, which is under significant downward pressure from a combination of congestion, delays and disruptions.
"These market forces pushed freight rates upwards on most trade lanes, and it is these market forces, in addition to our usual careful attention to cost control, that have driven the strong profitability that has been achieved during the period."
Like its peers, OOCL cautioned that so far in the third quarter of this year, it has not seen a huge increase in cargo volumes, despite the fact that it is the traditional peak period for container shipping. While retailers in the US and Europe tend to stock up for Christmas during this period, inflation and an uncertain economy amid the ongoing Russia-Ukraine conflict may be dampeners.
OOCL commented, "Undoubtedly, there're legitimate concerns about the impact of inflation and interest rate rises on consumer spending in many key economies. Even if US retailers' inventory-to-sales ratios remain low, we note some year-on-year increases in absolute levels of US inventory. Indeed, some larger US retailers have specifically reported that they are holding higher levels of inventory.
"At the time of writing, our ships are sailing full on our main long-haul trade lanes, and are forecast to continue to be fully loaded in the coming weeks. There has not been much evidence, so far, of the kind of significant seasonal uptick that is often a feature of the traditional Transpacific peak season. We continue to monitor the situation closely."
---
Martina Li
Asia Correspondent