CMA CGM has announced that it is raising surcharges for European and South America services as port congestion and equipment shortages continue to bite with shippers facing unprecedented levels of cost with deteriorating levels of service on a global basis according to the latest data from project44.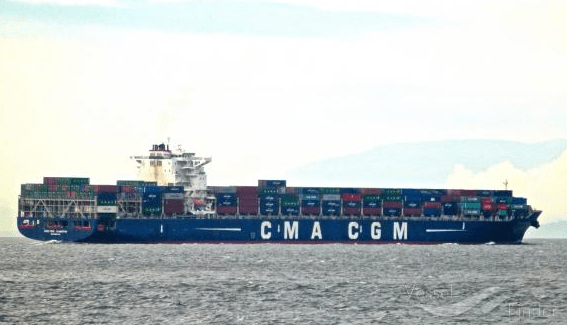 April rollover figures from project44 revealed that CMA CGM saw a rollover rate of 56% in April, the latest available figures, the highest rate since the pandemic began, and the worst rate of cargo delays among the top carriers.
Even so, the carrier has said that effective over the next month it will apply a new peak season surcharge (PSS) of US$300/€300/TEU on its Intramed Short Sea services for all types of cargo from and to all Mediterranean ports, including all Morocco and Portugal ports, and Black Sea ports. The surcharge will be effective from 1 June 2021.
Considering current steady volumes amplified with substantially increased system costs, CMA CGM has revised its PSS from and to all North European ports to and from the Mediterranean, including all Moroccan ports, and the Black Sea. The updated amount of the PSS will be US$300/€300/£300/TEU for all cargo and will take effect on 1 June.
Moreover, the French line will introduce a PSS on its Intra North Europe & Baltic services from and to all North European ports, including Scandinavia & Baltic ports, for all types of containers. The PSS, which will be effective from 1 June, will be US$150/€150/TEU.
Last but not least, CMA CGM has announced an emergency revenue charge, applicable from 12 June, from San Antonio, Chile; Callao, Peru; Guayaquil & Posorja, Ecuador and Buenaventura, Colombia to East Coast South America, West Coast South America, Leeward, Windward, French Guiana, French West Indies, Central America East & West Coasts, the Caribbean & Mexico East & West Coasts. The amount of the charge will be US$125/TEU including 45ft containers.