A crew member of the 11,000TEU container ship, YM TRAVEL, was tested positive for Covid-19 and as a result, there will be delays on the original vessel schedule.
YM Travel is currently deployed in THE Alliance's Far East – Pacific South West Coast Loop 6- PS6 service and the Covid-19 positive case was found, when the boxship was sailing to the Port of Pusan, Korea.
The port rotation of PS6 service is Qingdao – Ningbo – Pusan – Los Angeles – Oakland – Kobe – Qingdao.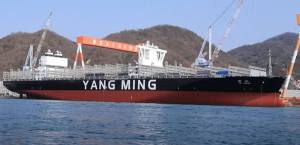 Now, the ship owner, Shoei Kisen Kaisha is working on the solution for this incident, according to Yang Ming, which is operating YM Travel and partners with Hapag-Lloyd, Ocean Network Express (ONE) and HMM, forming THE Alliance.
"With the above contingency plan, it is expected the original vessel schedule will be delayed and according to the ship owner's estimation, the earliest date YM Travel can be back to PS6 service and arrive at Pusan is 30 August," said Yang Ming in its announcement.
The Taiwanese container line took delivery of YM Travel, which was built by Shoei's parent company, Imabari Shipbuilding, late in July.