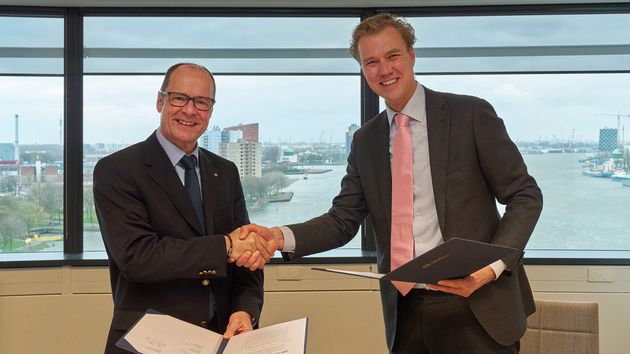 Uwe Köhn (Port director Hafen Mannheim) and Matthijs van Doorn (Commercial director Port of Rotterdam Authority). Photo: Marc Nolte
The ports of Mannheim and Rotterdam will expand their collaboration in the next years to make the logistics chain between the two ports more sustainable and digital.
Uwe Köhn, port director of Hafen Mannheim, and Matthijs van Doorn, commercial director of the Port of Rotterdam Authority, have signed a memorandum of understanding (MoU) to strengthen these ambitions.
The German port of Mannheim port is located along the Rhine corridor and inside a dense industrial sector, where bulk and container flow to and from Rotterdam are transported.
The prospects for further growing the hinterland network via rail and inland shipping and changing the logistics chain into a zero-emission transport corridor for goods transit by road, water and rail are among the key targets of the collaboration.
The partnership between the German port and the Dutch hub is also expected to increase the reliability and efficiency of barge handling at deep-sea and inland terminals, as well as exchange knowledge across both port complexes, in order to achieve a completely transparent digital Rhine corridor.
Regarding energy transition, both ports will examine whether they can act jointly in facilitating the infrastructure for the transport of alternative renewable energy carriers, either produced, imported or used in the ports, the hinterland and between the ports along the corridor.
Sources: Container-News