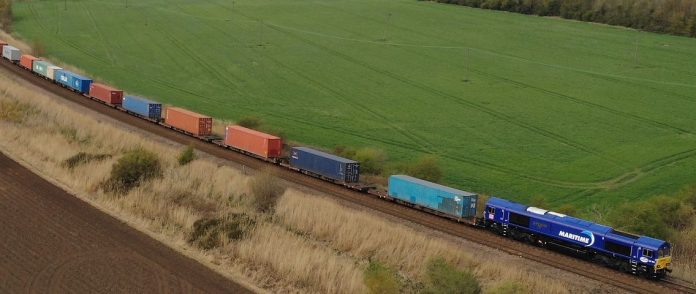 Maritime Transport and DB Cargo UK have launched a new rail service from the Port of Felixstowe to the East Midlands Gateway (EMG).
The new service has commenced on 15 March and run five days a week from Tuesday to Saturday.
This is the fifth connection of Maritime Transport with the Port of Felixstowe and will bring the company's total TEU availability per week to 8,000.
"Our latest intermodal service has been introduced following high demand at Felixstowe and EMG, and really underpins both Maritime's and DB Cargo UK's drive to offer more reliability and greater choice to the market," commented John Bailey, managing director, intermodal and terminals at Maritime Transport.
Maritime Transport's 68.800m² intermodal rail freight terminal provides access to the UK's major ports, operates 24/7 and is able to accommodate up to sixteen 775m freight trains per day.
The new service, which follows the recent launch of Felixstowe to Wakefield rail service, is expected to further enhance the Felixstowe port's rail connections to the East Midlands Gateway, according to a Hutchison Ports Port of Felixstowe statement.
"Regular services are important in growing the share of traffic choosing more sustainable intermodal options," said Chris Lewis, CEO of the Port of Felixstowe, and went on to note, "This third daily service to East Midlands Gateway boosts choice, reliability and frequency for shippers in the Midlands and helps reduce further the carbon emissions of businesses in the region that use the Port of Felixstowe as the gateway to overseas markets."
The Port of Felixstowe has three dedicated rail terminals and offers rail services to the following inland destinations: Glasgow, Manchester, Liverpool, Leeds, Teesport, Birmingham, Birch Coppice, Doncaster, East Midlands Gateway, Hams Hall, Wakefield, Ditton (Widnes), Rotherham, iPort Rossington and Cardiff.