Wuhan is eyeing more container routes as the Chinese river-port embarks on the second phase of a river-rail project that will make it China's largest inland river-rail transportation base.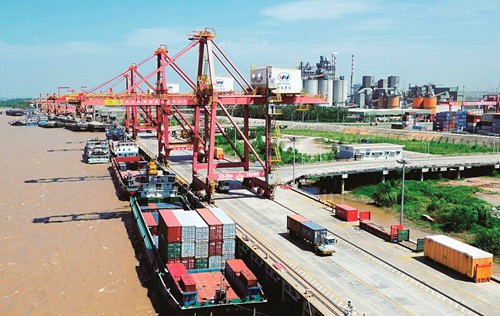 Located along the Yangtze River, Wuhan, originally the Covid-19 epicentre, has been making an economic recovery, posting container throughput of 1.96 million TEU in 2020, accounting for 85% of containers handled by ports in Hebei province.
Li Ying, deputy director of the Wuhan New Port Management Committee, said that Wuhan is striving to achieve an annual throughput of 5 million TEU by 2025. Yangluo will be Wuhan's main container port, supported by the smaller Jingkai, Jinkou, Huashan, Xianning, Ezhou, Huanggang, and Huangshi ports.
Several container berths will be renovated and expanded. The second phase of Yangluo's river-rail transportation project is underway, with trial operations set for August.
The frequency of a weekly Wuhan-Japan container service that was launched last May, will be increased to twice a week by 2022. A service linking Wuhan to South Korea is also planned for launch in 2023.
COSCO Shipping Lines and Zhonggu Logistics have been approached to explore the introduction of such services, as well as between Wuhan and ASEAN countries. These could have synergies with China-Europe rail freight services, enabling cargoes to be moved from East Asia and ASEAN to Europe via sea and rail.
Developing Wuhan's infrastructure is in line with the 14th Five-Year Plan (2021-2025) for National Economic and Social Development and the Long-Range Objectives Through the Year 2035.
The latest Five-Year plan will involve developing processing of bonded goods and services and international e-commerce, trade and distribution.